Anastasios Stathopoulo was politically forced to leave a successful instrument business in Turkey. Seeking asylum, he brought his wife and four children to the United States. Anastasios created a new life in America, settling in New York (Manhattan). Anastasios set up a small shop and began producing mandolins, lutes and violins. Mandolin sales were strong and kept the new found company afloat. In 1910, Epimanondas, the oldest of the children, joined his father in the business and soon became an accomplished luthier. In 1915, after only five years training, Epimanondas (nicknamed Epi) was forced to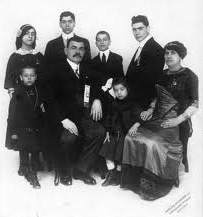 take over the family business when his father died unexpectedly while on a trip to Europe. It's obvious that Epi learned his craft well as under his leadership the small company flourished.
Epiphone Is Born
Epi's Mandolins sold very well until 1917 when the Dixieland Bands became popular. Epi entered the banjo market, receiving a patent for banjo design. At that time, Epi changed the company name to House of Stathopoulo. Banjo sales were very strong and in 1924 Epi renamed the company's banjos, combining his nickname with the Greek term for sound (phone) and the Epiphone line of recording banjos was born.
Demand for Epiphone Banjos grew rapidly and to expand production capacity Epi bought The Favoran Banjo Company, moving into their facilities. In 1928, The House of Stathopoulo officially became the Epiphone Banjo Company. Along with banjos, new
models of carved archtop acoustical guitars were also introduced.
A year later in 1929, the stock market crash which brought about The Great Depression occurred. This prompted a music market shift from banjos to Hawaiian Lap Steel guitars and Spanish style guitars. Facing a dramatic decrease of banjo sales, Epi shifted production to Spruce and Maple archtop guitars. In 1931 Epiphone released the DeLuxe, the Triumph, the Zenith and the Blackstone models. Epiphone began to challenge Gibson's domination of the guitar market and an intense rivalry that would last for the next twenty years began.
Epiphone Electric Guitars
each other, assumed control of the company. It wasn't long before Frixo sold his share of the company to Orphie and sales continued to declined rapidly under his control. A New York labor strike which lasted four months, forced the company to relocate to Philadelphia. At this point, the main focus was the production of upright basses. A sharp decrease in the product line, along with quality control issues set the company on the path to financial collapse.
It was during this time period that Epiphone introduced its first electric guitars, the Electar Series. By 1937, Epiphone guitars were considered to be some of the finest instruments in the world. At this time, Epiphone was a serious challenge to Gibson's domination of the stringed instrument market. The company had also developed the extension truss rod, magnetic pickups
with separate magnetic poles for each string and a primitive prototype of Jimi Hendrix's wah-wah pedal which was named the Tonexpresser. In 1941, five models of upright basses were successfully introduced. Epiphone sales continued a strong upward
trend until 1943 when Epi died of Leukemia. Epi's brothers Orphie and Frixo, who didn't get along with
Epiphone's sales continued to drop and in 1957 Orphie approached Gibson's president Ted McCarty with a buyout offer of twenty thousand dollars. McCarty, wanting to increase Gibson's presence in the bass market, convinced Gibson's parent company CMI to purchase Epiphone. McCarty's plan was to acquire Epiphone's upright bass
production facilities and close the company down. CMI realized that this was an opportunity to expand their dealer base and reorganized Epiphone. A year later, the Epiphone Company successfully released a new line of acoustic instruments and the solid body Crestwood electric guitar series.
Epiphone Is Sold to Gibson
The Epiphone Casino And The British Invasion
is still in production today. In 1962, the innovative Professional model and matching amplifier was released.
Epiphone Becomes Gibson's Import Line
1963 endorsements by celebrities Ernest Tubb, Marshall Grant (of Johnny Cash fame) and Al Ciaola (who is known for the theme songs for
The Epiphone Casino series was put on line in 1961. With a 17 degree offset headstock, a Maple body and a 24.75 inch scale, the Casino gained immortality during The British Invasion when Paul McCartney, George Harrison and John Lennon of The Beatles used them in the recording studio and live performances in 1964. The Epiphone Casino model was also used by Keith Richards and Brian Jones of The Rolling Stones and Dave Davies of The Kinks. A lower priced version of the Gibson ES 330 thin line
hollow body model, the Casino is now Epiphone's most notable thin line hollow body unit and
the television show Bonanza and the movie The Magnificent Seven) boosted sales. Demand for Epiphone Guitars stayed strong through the 1960's, but competition by lower cost Japanese import instruments forced CMI to move Epiphone's production to Japan in 1970. At this point, Epiphone became an import line.
Epiphone And Gibson Are Rescued From Bankruptcy By Henry Juszkiewicz
The Gibson Guitar Corporation and Epiphone Incorporated suffered greatly from the takeover of parent company CMI by Norlin in 1969. By 1986, Gibson and Epiphone, both financially devastated, were ninety days from bankruptcy when the company was rescued by a group of investors. Guitar enthusiast Henry Juszkiewicz,
signature models and the Epiphone Les Paul, the Epiphone Dot ES 335, the Epiphone Flying V, the Epiphone Thunderbird and the Explorer models were introduced. Through Epiphone, Gibson now had a competitive import line for musician's who needed a quality instrument, but couldn't afford the Gibson price tag. The consumer wanting a Les Paul, a SG or an ES 335 Dot Guitar now had a choice, Epiphone or Gibson. This proved to be lucrative for both companies and by the year 2,000 Epiphone was back on top.
with a MBA from Harvard and considerable business experience, became the CEO. Gibson's and Epiphone's survival and future successes are credited to this change of leadership. Classic models of Epiphone guitars were successfully reissued. Several
electric guitars has remained strong. With musical legends such as B.B. King, John Lennon, Keith Richards, Rick Nielson, Nancy Wilson, Joe Perry, Dwight Yokam, Noel Gallagher and John Lee Hooker directly associated with their guitars, the Epiphone Legend will live forever!
Gibson master luthier Mike Voltz was assigned to The Epiphone Company in 2002. Voltz designed the Epiphone Masterbuilt acoustic models and changed Epiphone's advertising strategies. Sales of Epiphone Guitars dramatically increased and production facilities (which were then in
Korea) were moved to a newly constructed factory in China. Demand for Epiphone
Epiphone Guitar History
Epiphone Guitars quality instruments and innovations have been a major influence in the music industry for over 125 years. The Epiphone Guitar legacy began in 1903 when at the age of forty, master luthier